Team Up is a gameplay mechanic where players pair up to defeat bosses. It was implemented into the game on August 3 2018.
At player level 30, Team Up is unlocked and can be found in Trials menu.
Battling
There are 3 bosses currently available, each with 3 difficulty levels. They are:
The only enemy you will be facing is the boss itself; it won't have any minions.
The time limit for each battle is 10 minutes.
Teams
Each team will consist of 2 members: a leader and a member.
The leader selects 3 Food Souls out of their own roster for the battling team, while the member selects 2. There can not be any duplicate Food Souls.
The leader is in charge of selecting the leader for the battling team as well. (Within their own 3 Food Souls)
If you select "Match", you will either create a new room, or join a room that has not been locked.
If you wish to play with a friend,
Select the boss and difficulty you want to play.
Check the "Password" box.
Set a password and tap "Create". (You can choose not to set a password as well)
Once the room is created, you will see the "Team Number" in the top left corner of the screen.
Send the Team Number and password to your friend for them to join the room.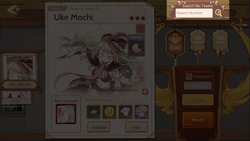 If you wish to join a room,
Enter the Team Number in the "Search for Teams" bar in the top right of the boss selection screen.
If the Team Number is valid, you will then be prompted for the password. (Or, if no password has been set, you will directly join the room.)
Rewards
There are 3 types of rewards: Normal, Rare and Bonus.
You have 10 normal reward chances daily, and 5 more chances can be purchased for 10 Magic Crystals. (Monthly pass increases 5 extra → 10 extra)
Normal rewards: When you defeat a boss and you have a Normal reward chance, you will randomly receive 1 out of 4 choices.
Rare rewards: Skins for Food Souls, and have a chance of dropping when you defeat a boss. They are not part of the 4 random Normal rewards, a special screen will pop up alerting you of acquiring a Skin.
Bonus rewards: Unique tokens of the boss, and can be accumulated for player avatar borders and avatars. They can still be acquired after all Normal reward chances have been consumed.
You can still play for Rare and Bonus rewards after all Normal reward chances have been consumed.
Normal and Bonus rewards scale with difficulty. Higher difficulty does not increase Rare reward drop chance.
There is a rather small chance of obtaining Bamboo Rice shards as a Normal Reward in Hard difficulty.
Reward Details
Uke Mochi

Difficulty
Normal Rewards (Random 1 out of 4)
Bonus
Rare
Easy

Normal

Hard
Aizen

Difficulty
Normal Rewards (Random 1 out of 4)
Bonus
Rare
Easy

Normal

Hard
Tsuchigumo

Difficulty
Normal Rewards (Random 1 out of 4)
Bonus
Rare
Easy

Normal

Hard